Amazing Clients – Burns & Levinson LLP
Victor Del Regno, Producer and Director of "Till Then – A Journey Through WWII Love Letters"
The Rhode Island International Film Festival, an event that launched two films nominated for Oscars in 2012, is the largest film festival in New England. For 16 years it has attracted many aspiring young filmmakers from around the world, and on the evening of August 8, 2013 at The Veterans Memorial Auditorium in downtown Providence, it will feature a World War II documentary produced by a 66-year-old former Rhode Island resident, Victor Del Regno, who is not even schooled in the art of movie-making. His entry is one of approximately 200 films selected by judges from among nearly 5,000 entries from over 60 countries, and it is unique.
Vic Del Regno, the former CEO of a reputable northeastern sales and marketing company, discovers the untold truth about his parents' relationship during World War II from a box of old letters found in a dark, damp garage. This starts him on a five-year journey that takes him halfway around the world to a small island in the South Pacific, where his father had served as a WWII Navy Seabee, and then back to his hometown of Nyack, NY.
Vic was so moved by his parents' correspondence that he felt compelled to retrace his father's footsteps, taking cinematographer Chris Simmons with him to film the journey.
"I never knew this side of my father until I read the letters. Like so many men of his generation, he did not express himself openly, and he never spoke of the war while I was growing up," Vic recalls. He also marvels that his father, who had only an eighth grade education and spoke Italian fluently, wrote so beautifully and so poignantly about the war and the emotional pain of separation.
"I wanted to tell my parent's story, and I wanted to leave a legacy to them, to our children, to the greatest generation, and to all the people still separated by war today," says Vic, who was so inspired that he invested over $400,000 of his own money to make the movie.
"I also wanted people to realize the emotional cost of war and the sacrifices made for our freedom, not just by the soldiers, but by their spouses and loved ones at home too. This story highlights the perspective of the women who stayed at home during World War II, and it also speaks for all those who remain at home today while loved ones fight in today's wars," Vic adds.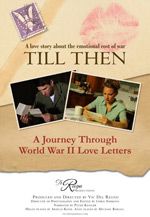 In making the film, he wanted to tell a different kind of story — one that is rarely told because of what is lost during wartime. "It is so sad to say when veterans die, many families unwittingly throw away historical treasures that they didn't realize they had," Vic says. "This movie has already had a positive effect on those who have viewed it and have been inspired to look for family artifacts that would have otherwise been thrown away."
The documentary film story of Andy and Helen Del Regno begins shortly after their marriage, which took place on August 24, 1940, when they were just 26 and 18 years old, respectively.
Andy, who worked at a local manufacturing plant, enlisted in the newly-formed Seabees after the December 7, 1941 bombing of Pearl Harbor. He chose the Seabees because they were members of the U.S. Navy Construction Battalion, or "CB" for short, and they would do much of their legendary original work building bases and airfields in the South Pacific islands.
Then, in the late summer of 1942, Andy was shipped out from his home in Nyack, New York to Davisville, Rhode Island, a village in North Kingstown where the Seabees were born and the first Quonset huts, named after Quonset Point, RI, were designed and built. But he was training to do much more than just build temporary housing, bases and airfields. "They are teaching us how to fight and kill commando-style instead of teaching construction trades," he reported to his wife in an early letter.
By late 1942, Andy's training was completed, and on Christmas Day he was passing through the Panama Canal on his way to the South Pacific and the Solomon Islands. From the islands he would write countless letters in 1943, painting a vivid picture of the difficulties of a soldier's life in the South Pacific. "There are more flies here than snowflakes at home," the homesick Seabee wrote, for example, adding, "All I want is to be back in plain old Nyack. I would give the world just to hold you in my arms… but right now there's a job to be done and we have to do it."
For Helen, the war brought only loneliness and separation, and it was hard remaining tethered to Andy's tight-knit family. "My mom was orphaned at 14, raised by her brother, Otto, and quit school at 16," Vic recalls. "When the war separated my parents, she was still a young, beautiful and very independent Irish-German woman who must have felt smothered by the Italian family she married into with its numerous family functions and weekly Sunday dinners."
Thus, Helen wrote to Andy only sporadically during 1943 and 1944. It was during that time that Camp Shanks was opened near Nyack, a site that became known as "last stop USA" for soldiers who were staging to go to war in Europe. "Roughly 1.3 million troops and 70 percent of the soldiers in the Normandy Invasion passed through Camp Shanks, and they paid lots of attention to the girls left at home in the USO club and the local bars of Nyack," Vic expounds.
While Helen was spotted out and about with a single woman who had "a reputation," Andy was persistently writing to her, asking why she had not sent letters. The pain for him was amplified by the fact that some of his tent-mates were getting up to a dozen letters in a single day, while some others were getting "Dear John" letters that ended their romances.
"The movie shows how soldiers literally live on these letters from home," Vic explained, adding, "even today this is true, as soldiers in war zones often have wireless or Internet contact blocked out or shut down for security reasons."
The reality of the movie and the conflict is heightened by actual footage of WWII, including testimony and tales from women who lived through the war with loved ones overseas, reenactment scenes from a 1940's kitchen (courtesy of the Culinary Arts Museum at Johnson & Wales University in Providence, RI), a WWII tent reenactment (courtesy of the Seabee Museum in North Kingstown, RI), and narrations by professional golf announcer, Peter Kessler, as well 93-year-old famous Hall of Fame Sportscaster, Bob Wolff, who was stationed in the South Pacific on the same island at the same time as Andy Del Regno.
Fortunately for Vic Del Regno, his parents reconnected in December 1944, and when his father came home for the holidays that year, they shared romantic evenings in the moonlight of their Norman Rockwell-esque village located on the Hudson River, just 30 miles north of New York City.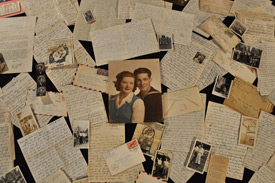 When Andy was called to a second tour of duty in the Philippines in 1945, Helen became a prolific and passionate writer, reassuring him that "this is one girl that is waiting for her husband," and sealing her letters with lipstick kisses that kept him going through some very blue periods. Among other things, as described in his letters, Andy was saddened that some men on multiple tours of duty were sacrificing much more for freedom than others who had yet to serve and were frolicking at home.
The pain for Andy was made worse when he learned in April of 1945 that his brother Victor, after whom the film producer was named, had been killed in the Battle of the Bulge, a particularly shocking development because the family was initially told in February that Victor was seriously hurt but had survived.
"Till Then – A Journey Through WWII Love Letters" is stirringly told by the filmmaker and punctuated with contemporary scenes of his journeys to the South Pacific islands as part of his effort to retrace his father's steps.
It ends with an epilogue mentioning that Helen is now 91 and suffers from Alzheimer's, but still asks every day, "Where is my Andrew?"
So far, the film has had only a few showings, including at the Nyack library on the anniversary of the D-day landing, and at Burns & Levinson, the law firm which represents Vic Del Regno. He says the response to the showings could not have been better. "People are grabbing tissues, their eyes are wet, and some of them have come up and thanked me for sharing this story."
He thanks his own family for allowing the story to be produced, and he acknowledges the efforts of attorneys at Burns & Levinson, who helped him launch this project by getting appropriate intellectual property clearances, providing good advice on contracts related to the production, and even successfully resolving a dispute related to the film.
Vic particularly credits Attorney George Tobia, chairman of the Firm's Entertainment & Media Group, as well as Attorney Paul M. Sanford, who oversees the Firm's Rhode Island Litigation practice, for helping to get the film off the ground.
But he is most effusive about his long-standing relationship with Attorney Brian Bixby, chairman of the Firm's Probate and Trust Litigation practice. "I have been professionally involved with Brian, and consequently Burns & Levinson, for roughly 30 years, and we have been through company formations, trust formations, estate planning, contract negotiations, litigation, film work, and even personal tragedy together, and I can't imaging working with anyone else," Vic exclaims.
"Brian is the quarterback of my legal team. He always hands off to the right people for every legal need I have, and he helps me understand the accounting, tax and other implications of every move I make," Vic adds, noting that Attorney Bixby also makes him feel personally valued and respected.
Noting that Attorney Bixby and his team provided particularly strong professional and personal support for him when one of his sons tragically died in college, Vic asserts: "Brian and his team are more than just our lawyers. They are part of our extended family, and we always look to them with confidence and trust."
For more information about Victor Del Regno's film and to view the film trailer, visit: www.TillThenJourney.com.
For more information about the Rhode Island International Film Festival taking place August 6-11, 2013, visit: www.RIFilmFest.org.