November 19, 2015
Mr. Victor R. Del Regno
To Reign Productions
6718 Fox Hollow Drive
West Palm Beach, FL 33412
Dear Vic,
l was glad to be able to attend last week's Veteran's Day screening of "Till Then: A Journey through World War ll Love Letters" at the Weaver Library in East Providence.
lt was nice to be able to see your great film again ­ on a big screen and in the company of veterans. I must commend you on the production values, the location shooting, research and use of archival footage, and the overall tone and message of the film.
Before I became director and curator of the Culinary Arts Museum, my wife and I had a media company.  We produced documentaries for non­profits. One of our films for Henry Ford Museum covered a similar time period, as it was about Buckminster Fuller's Dymaxion House, meant to solve the post­World War ll housing crisis. Thus, l too have spent a lot of time looking for and reviewing old footage. When l see storytelling that works as powerfully as yours in "Till Then," I know the effort it takes.
At Johnson & Wales, we remain proud to have been able to support you and supply a location that fit the bill for the recreation of your mother's kitchen. Our 1943 "canning kitchen" display was inspired by a slide­film produced by the Farm Security Administration, "Today's Storage is Tomorrow's Dinner." l think it was a great fit for your project.
Good luck with your future work in promoting the film. It really is a timeless story that has particular resonance right now given the ever­present conflicts in which we seem to become embroiled.
All best regards,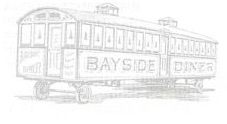 Richard J.S. Gutman
315 Harborside Boulevard, Providence Rhode Island 02905 ­ Tel (401) 598­2805 ­ Fax (401)598­2807 ­ www.culinary.org