World War II correspondence helps a man rediscover his Rockland parents
Written by: KHURRAM SAEED  |  The Journal News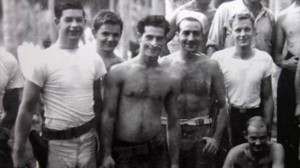 Vic Del Regno is getting to know his father all over again — even though the World War II veteran has been dead for 22 years.
Since 2007, Del Regno has read and reflected on some 600 letters his father, Andrew Del Regno, a Navy Seabee, and his mother, Helen, exchanged over a three-year period while he was serving in the South Pacific.
The handwritten letters traveled back and forth from the jungles of the Solomon Islands and the Philippines to 69 Main St. and 76 High Ave. in Nyack. They paint a portrait of a young man in love with his wife, missing home and the life he knew. But they also reveal a relationship strained by the distance of war, the hurt of longing and ultimately forgiveness and an appreciation for each other.
Del Regno wasn't born when the letters were written and his parents rarely talked with their six children about those times.
"I never saw this side of my father, the love, the passion," said Del Regno, 64, who left Rockland County as a young man in 1973 and now divides his time between Florida and Rhode Island. "He never openly expressed the affection that is contained in the letters."
He said his parents' story is not unique to veterans. Because he has documented evidence, he decided to make a documentary to share parallel stories — of love in times of war and a child's discovery of his or her parents outside their familiar roles.
"This is the story of the casualties of wars that don't leave physical scars. They leave mental scars," said Del Regno, a retired CEO of a food sales and marketing company based in Massachusetts.
Del Regno said his mother, who suffers from advanced Alzheimer's disease, is not aware of the documentary project to which he has devoted considerable time and money for the past five years, including retracing some of his father's footsteps overseas.
'Sentimental Journey'
Del Regno always knew the letters existed.
He recalled looking at them as a 7-year-old along with his sister and giggling hysterically at seeing "I love you" written in his parents' handwriting. Years passed, the family moved to West Nyack, then New City, and the letters were put in a box and largely forgotten.
After his father died in 1990, Del Regno, who is a married father of six, took possession of them. The letters spent 17 years sitting in a wooden chest in the living room of his Rhode Island home. After watching Ken Burns' seven-part documentary on World War II, he finally decided to read all of the letters, some as long as 10 pages, and many of which were crumbling, musty or stained.
Once he started, he couldn't put them down.
"They were telling a story, a story I never knew about," Del Regno said. "There were blanks being filled in that you felt and suspected."
Andrew Del Regno and Helen Giese married on Aug. 24, 1940. He came from a large Italian family. Her mother died when she was 3 and by the time she was a teenager, she was being raised by her brother, Otto. She was 18 when she married; he was 26.
By the time she turned 20, her husband had enlisted in the war, joining the Seabees, the Navy's construction battalions.
Del Regno was sent to the Solomon Islands: a hot, moist country along the equator in which the Japanese were equally interested. The Seabees spent their days building bases, airfields and structures to store supplies to support the incoming Marines.
They found comfort in letters from home, except that Del Regno wasn't getting many from his wife, or as many as he wanted.
Due to the shortage of men, Helen Del Regno had been working — at a sewing factory, as a cashier, a welder and, later, at a state hospital — and her husband understood she was busy. She didn't write much, and to make matters worse, Del Regno said his mother was distant from her in-laws, who also lived in Nyack, even when his father was around. With him overseas, she had little contact with them, even skipping out of town on the day of a family portrait.
His father went weeks at a time without getting letters, whereas his fellow Seabees received dozens of letters and packages.
"As I'm reading these letters, I'm saying, 'Mom, for God's sake write to him. He loves you,' " Del Regno said.
'I Wish I Knew'
Bob Wolff spent nine months as a supply officer with the Seabees in the Solomon Islands, starting in 1943, although he didn't know Del Regno. He said the letters meant the world to the troops because they were their only connections to the outside world. "In the back of your mind, far away, there's always the feeling you might not get back to share again," Wolff said.
"Some people left wives, girlfriends, prospective wives behind and in the back of their mind, they may not be their girlfriends anymore. They might have found somebody else and decided not to wait," added Wolff, a 91-year-old South Nyack resident who, after leaving the service, went on to become a prolific sports broadcaster and was inducted into the National Baseball Hall of Fame.
In April 1943, Del Regno received a letter from a friend in Nyack telling him that Helen has been seen in local hotels "dancing" and "making merry" with soldiers. A tent-mate of his, who had known him since boot camp, later wrote to Helen telling her that Andrew was devastated by the news and asking why she was being so "mean" to him.
Del Regno later himself wrote to his wife, "I didn't in the least believe (the gossip) but I was hurt by its contents."
Tens of thousands of soldiers had invaded Rockland seemingly overnight when Camp Shanks, the giant sprawling military complex in Orangetown, opened in January 1943. In all, more than 1.3 million soldiers would pass through the site from 1943 to 1945.
"When these guys were off, they would go downtown to Nyack or wherever and (there) would be all these young troops looking for a good time," said Jerry Donnellan, Rockland County's director of veterans affairs. "There had to be a good- looking guy in there somewhere."
Del Regno doesn't know what his mother did or didn't do in those dance halls and he doesn't judge her. She was young and alone for two years, living with the searing knowledge her husband could be killed at any time. Millions of relationships experienced the same tensions, he said, and what matters most was that his parents were married just shy of 50 years and lovingly raised their children.
"They were tested," he said.
Those difficult times would continue for another year.
"It was a nice letter but you had very little to say," Del Regno wrote to his wife on Sept. 29, 1943. "I don't know just how many letters you have written to me since Sept. 8 but this is the only one since then. I guess it is rather difficult to write sometimes so I'll have to forget it."
By Christmas 1943, Del Regno wrote to his sister-in-law about the lack of contact from his wife, made all the more painful and humiliating by all the mail his fellow troops were getting from their wives or girlfriends. "I haven't received a card or a letter from Helen, and I feel terrible," he wrote. "Does Helen really write to me every day, or doesn't she? … I feel lousy. Single guys get mail every time it reaches camp. Forty-four sacks of mail and packages, and all I get is a Nyack paper."
Vic Del Regno said 1944 was a "very bad year" for his parents, with only sporadic writing.
But when his father returned to Nyack on leave in December 1944, something changed — for the better.
"They reconnected but no one will ever know how or why," Del Regno said, although an intimate encounter on a moonlit night at the end of Smith Avenue in South Nyack was mentioned by his mother in a subsequent letter. "It appears all was forgiven."
'Till Then'
Del Regno, who possesses a virtually encyclopedic knowledge of his parents' letters, said they became more constant and affectionate in 1945, when his father was dispatched to the Philippines and the year his brother was killed in Europe.
The tenderness is evident. The outlines of his mother's red-lipsticked lips still adorn the back of several envelopes. On many, she writes "SWAK," short for sealed with a kiss. His parents often ended their letters with popular song titles of the day, such as "Counting the Days," "I'll Be Seeing You" and "Always."
Del Regno used the name of one such song for his documentary, "Till Then: A World War II Journey Through Love Letters."
His film is about 75 percent complete and it features excerpts of the letters, archival footage, re-enactments of his parents in their youth, Del Regno's trip to Banika Island in the Pacific and interviews (including talks with Wolff, Donnellan and others from Rockland).
Del Regno has personally financed the project, which has cost him some $400,000 so far. He plans to shop the documentary to cable channels when it is finished being edited this fall, and he also intends to hold a public screening in Nyack.
While every family's story is different, Del Regno said they all share universal truths.
"People don't realize the treasures they have sitting in their attics and garages (are) a window into their family history," he said. "They're sitting on a goldmine of history and emotion."
Del Regno keeps the original letters in chronological order in 11 2-inch-thick notebooks that fit neatly into two milk crates. He had the letters and family photographs reproduced in four leather-bound volumes, totaling 1,400 pages, which he gave to his siblings. Some of his sisters and brothers initially wanted to keep their family's story private, but Del Regno said they have come to understand "this story is bigger than us."
Knowing what he learned about his parents' relationship, Del Regno said he had no regrets. In his mother, he discovered a strong-willed woman who survived numerous challenges in her life, but not without stumbling. And in his father, he discovered a man with an eighth-grade education who was sensitive in words and unabashedly open with his feelings, although he became more reserved later.
In some ways, these were not the people he grew up calling Mom and Dad.
"When you read the letters," Del Regno said, "you can't believe it's the same couple."